House-hunting in the millennium city of Gurgaon has always been a challenging task. As working and living habits have rapidly evolved, housing models have undergone a significant transformation. Amid this change, the concept of coliving has attracted considerable attention from the millennial generation. With its increasing popularity, a lot of curiosity has surrounded this new managed living concept.
Wondering how coliving works?
Table Of Content
What is Co-living?
4 Benefits of Co-living for Millennials

Bye-Bye Brokerage!

Managed Living at its best

A holistic lifestyle

A stay fit for your needs and dreams!

Conclusion

FAQs
No worries, by the end of this blog, you shall know everything there is to know about coliving in Gurgaon and also find some life-saving tricks to make sure you have the best colive experience ever!If you are a working professional searching for flexible accommodation options in Gurgaon, Housr is the place for you. Housr's luxury coliving spaces offer a comfortable, connected, luxurious and managed way of living where all your lifestyle needs are met with a click within your property.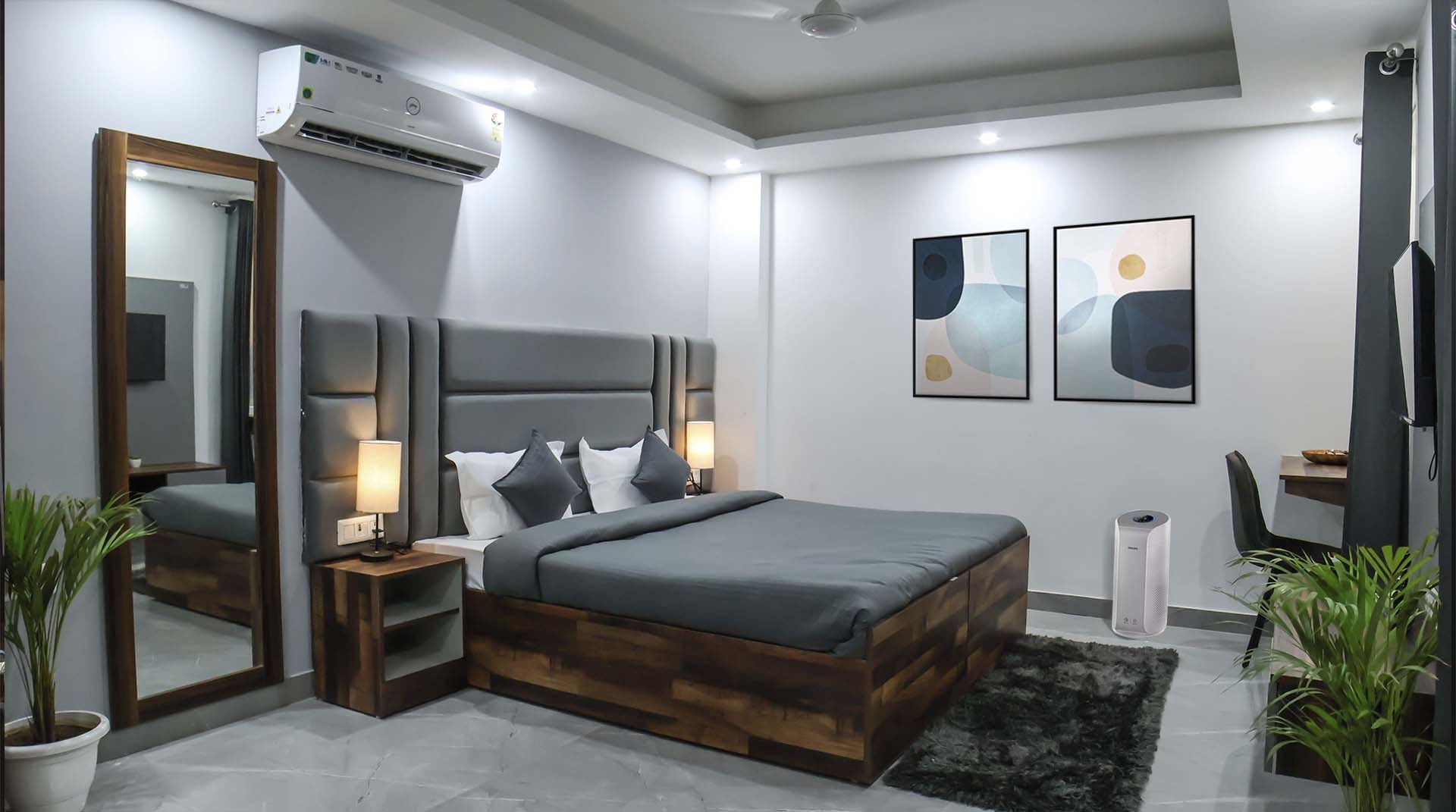 But first,
What is Co-living?
Coliving is a modern living concept that has recently gained traction. It's a lifestyle choice that has been embraced by many people looking for a flexible and social alternative to traditional renting or buying a home. However complicated it may seem at the outset, Coliving is essentially about striking the right balance between privacy and community. Leading industry players like Housr offer fully furnished and managed upscale rooms, ingeniously designed break-out areas, and community zones, curating a unique social experience for the residents.
4 Benefits of co-living that make it 'cool living' for millennials 
Combining comfort, community, and luxury, co-living has addressed all the pain areas of modern housing, like the tedious bidding wars and the brutal brokerage system prevalent in India and case in point- Gurugram. Below are some of the significant advantages that co-living offers.
Bye-Bye Brokerage!
People living in coliving arrangements generally look for affordable and flexible housing without the high brokerage amount. Renting spaces at zero brokerage instantly makes coliving a millennial-friendly accommodation option. A major lifestyle transformation that doesn't burn a hole in your pocket? Millennials are bound to say a big yes to co-living! 

Managed Living at its best
Moving to a new city usually comes with a lot of compromises. Well, it doesn't have to. Thanks to coliving players like Housr, you can live your best life without any compromise. From laundry at your doorstep to professional housekeeping, in-house meal subscriptions, and super-speed Wifi to App-enabled living, you get everything you'll ever need at your fingertip. Co-living spaces provide a wide array of essential and lifestyle amenities compared to the handful of living amenities offered at PG and hostels. Thus helping millennial youth do more than just survive and rather thrive in the new city!
A holistic lifestyle
The idea of the home away from home is what co-living has taken very seriously. With the unique opportunity to socialize with fellow residents, co-living allows you privacy with the comfort of the community. Here one regularly interacts and engages with like-minded people and gets to expand their social network without even stepping out. Furthermore, with destined common spaces for socializing on the premises, co-living strikes a healthy balance of privacy and sociability for individuals living far from home.
A stay fit for your needs and dreams!
Remember when you had to rush to the PG before 6:30, or the gates would close? Or eat before 9:00 PM, or you'd have to starve yourself that night? Of course, you are having a hard time remembering because, thanks to co-living, strict and impractical landlords are a thing of the past. Besides being cost-effective, co-living is also highly liberating for millennials who value their freedom over everything. The residents are free to come in or leave any time of the day and even choose to have meals at odd hours when the need arises. With so many dreams to chase up to and parties to catch up on, co-living offers a truly independent living experience.
Conclusion
Co-living has earned its popularity amongst the millennial generation of Gurgaon. You don't have to take our word, experience it yourself and make your next move your best move with Housr! 
Still, wondering How?
It's quicker than you would think. Housr helps you move-in, in three simple steps.
Step 01- Fill out the booking form
Step 02- Get a call from our Sales Representative
Step 03- Pay the security deposit and Move-in!
Now, we know you would have so many questions. Here are some FAQs
Frequently Asked Questions
How is Housr Coliving different from other co-living?
Sprawling across the prime locations of significant metropolitans like Gurgaon, Bangalore, Hyderabad & Pune, Housr coliving boasts of its chic architecture, amenity-heavy managed accommodation, and an exclusive community experience that defines luxury living. 
Does Housr provide independent flats and apartments in Gurgaon/ Bangalore/ Hyderabad/Pune?
Yes. Besides independent apartments and flats in Gurgaon/ Bangalore/ Hyderabad/Pune, Housr offers luxury independent/ coliving apartments for rent that are the city's strongest luxury magnets! Explore them now.
How are Housr Homes different from Housr Coliving?
Acing luxury accommodation with 1 BHK and 2 BHK options, Housr Homes is the right blend of perfection and privacy to start a new life! Retaining all the goodness of Housr co-living, Housr homes are couple-friendly and pet friendly, and you also get to unleash your inner chef in your own kitchen!
What are the locations where Housr is present?
Housr offers rental apartments in almost all of the prime locations in major metropolitans like Gurgaon, Hyderabad, Bangalore, and Pune.
How is Housr Coliving better than any Local PG?
We have strict regulations against mediocrity. Unlike any other Coliving PG, Housr Coliving offers you the best of everything when it comes to lifestyle choices. From fully managed and furnished rooms to hotel-grade housekeeping, in-house gourmet meals to the coolest community events, you get to explore luxury like never before!
Does Housr have any properties on Golfcourse road, Gurgaon?
Housr 43, One Horizon Centre, Housr Paras hospital, Housr 47 near Ikea. These managed luxury properties duly flaunt their exclusive proximity to essential business parks and all things great at Golf Course Road!
Does Housr have any rental properties near Cyber City, Gurgaon?
House Homes Phase 4 Gurgaon, Housr DLF Phase 1, and Housr Homes Sector 27 are some of the properties tucked in the heart of Gurgaon- Cyber City. 
Does Housr have any properties in Balewadi, Pune?
Tucked in Pune's most sought-after locality, Housr Vision/ Housr Balewadi is an immaculate property for you to colive in Pune.
What are the locations in Hyderabad where Housr is present?
Housr offers rental apartments in almost all of the prime locations in Hyderabad, namely – Kondapur, Gachibowli, and the Financial District.
Does Housr have any Coliving in Kondapur, Hyderabad?
Housr Kondapur Tower A and Housr Kondapur Tower B are two of the magnificent properties which duly flaunt their exclusive proximity to essential business parks and all things great in the vicinity. 
Does Housr have any rental flats in Koramangala, Bangalore?
Housr Homer, Charlie, and Jenkins are a few of the many rental accommodations in the Koramangala area where you can co-live in Bangalore.
What are the locations in Bangalore where Housr is present?
Housr offers apartments for rent in Bangalore in almost all prime locations – HSR Layout, Koramangala, Electronic City, Geetanjali Layout, and more!
Does Housr have any flats for rent in HSR layout, Bangalore?
Housr Friday, Edith, Homer, and Charlie are some of the properties tucked in the heart of Bangalore- HSR Layout.